Training Consultancy
Mental health issues are on a rise within Australia and globally.
Beyond Blue (2014) states that "untreated mental health conditions cost Australian businesses $10.9 billion annually in absenteeism, reduced productivity and compensation claims".
In May 2019, The World Health Organisation (WHO) has also classified Burn-out as an occupational phenomenon which is now a global crisis! Read the WHO's article here.
Investing in good mental health training programs is essential for any business.
Price Waterhouse Cooper (2014) found that for every dollar that Australian businesses spent on positive well-being, they could expect a positive return on investment of $2.30 in benefits to the organisation. Read PWC's report.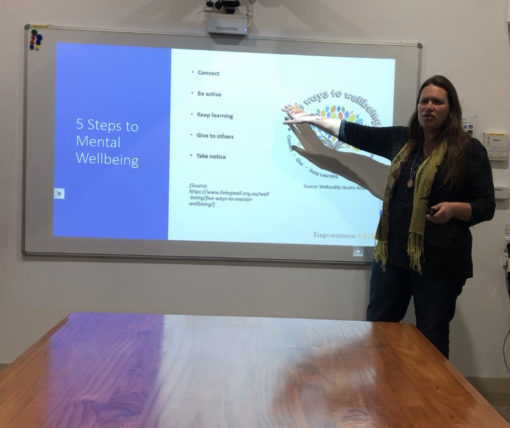 We aim to transcend reactive counselling to a proactive participation in self-care and well-being services focused on building resilience. Further to this, we equip you to feel confident in the well-being space, even facing complex trauma, through:
*Customer and employee tailored wellbeing training program development and delivery.
*Specialised training for staff in being exposed to clients with complex issues such as mental health or trauma / complex trauma.
*Vicarious trauma training – knowing when you or your colleagues are being impacted.
*Working with your HR team and managers to equip your staff.
*All workshops developed around your specific needs, with ongoing coaching for your Leadership team to manage your workplace.
Delivered face to face in full or part day training workshops for a maximum of 20 people; or remotely through webinars for a maximum of 30 people.  We can meet your training needs regardless of location.

Online Coaching Courses OUT NOW!
Want to access high quality coaching courses from the privacy of your home for a fraction of the cost of what you would pay a coach working individually face to face with you? Warida Wholistic Wellness has the answer for YOU! Our flagship courses have been delivered Internationally to rave reviews!:
Assertiveness (Amazons and Warriors);
Assertiveness for Horse Riders
All you need is access to an internet connection, 15-20 mins once a week, and a commitment to drive your inner awareness to change. 
Prices are in USD as this is delivered internationally.Note: new courses will be added regularly.