Within Australia and internationally, we are seeing an increasing awareness of the benefits of Equine Assisted Psychotherapy (EAP) as a legitimate therapeutic approach. Regularly we are seeing research being published on various aspects of therapeutic healing with horses, with respected mental health professionals within Australia and Internationally discussing the benefits.
With our country currently in crisis mode with the extensive bushfires and a long recovery road ahead, it is timely to consider how equine assisted psychotherapy can assist with the mental health side of bushfire recovery. This blog is exploring how an Equine Assisted Psychotherapist can help facilitate healing.
Clarification
This blog is the first part of a follow-up to my short video presentation.  Much of the information contained in the video is also in this blog, but you may find it more useful to have it in a written form where you can easily refer to the content.  Please note that terminology for the therapeutic modality can be used quite interchangeably. In this case, I am using the term Equine Assisted Psychotherapy, but you may heard it referenced to as Equine Assisted Therapy or the less correct term, Equine Therapy (which actually means therapy to horses not with horses). Please note that some of this information may be triggering for you.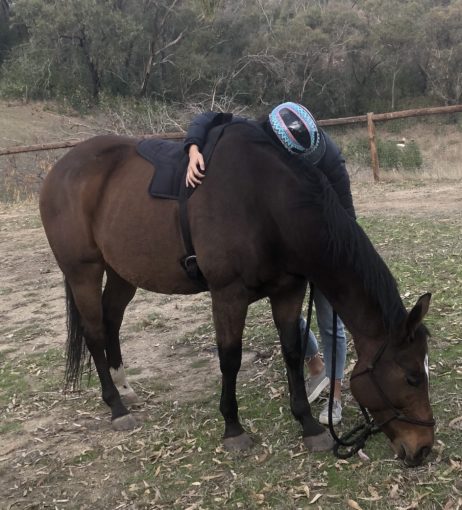 What is Equine Assisted Psychotherapy (EAP)?
"Equine Assisted Psychotherapy is a professional, innovated, and experiential approach to counselling, psychotherapy, and mental health that supports clients of all ages in addressing psychological processes and therapeutic goals (emotional, cognitive, behavioural, relationship, and mental health related therapeutic goals), with horses as assistants, supports, and co-facilitators in this process".

– Meg Kirby (2016)
EAP is a therapeutic modality and as such should only offered by registered counsellors, psychotherapists, or registered mental health practitioners such as mental health social workers and psychologists. Please note that there are other very beneficial services such as Equine Assisted Learning (EAL) that are provided by a non-mental health practitioner.
Trauma Experienced from Bushfires
Emotional regulation, stablisation and processing following a trauma experience is very much an individual journey. In my own situation, I lost my home in house fire in 2007 and my entire property burned except my house in the Sampson Flat bushfire in 2015. We had also been on high alert with the Cudlee Creek fires due to us only being 8kms from the fire front. There is no way that experiencing all of that wouldn't impact me emotionally in some way.  I think that it was probably around 5 months after Sampson Flat before that sinking, gut wrenching feeling stopped every time I smelt smoke. The reminder of suffering of others, wildlife and stock stayed for about the same time.
At the same time as this suffering, there were incredible displays of community spirit, kindness, compassion, of volunteers personally contributing and giving of themselves in so many ways, and of healing. Even the country burst forth in regeneration with glorious bouquets of coloured leaves against blackened trunks.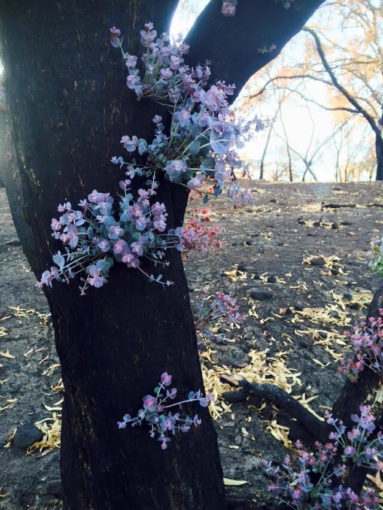 Many people are still struggling with recovering from Sampson Flat. The Cudlee Creek fires here in SA, and the other extensive fires around the country may be exceptionally triggering for them. This may resonate with you or may be one of your family members or friends. Survivors will be constantly asked to repeat their story every time they make an insurance claim, friends ask how they are, or the media / politicians ask to speak to them.
With entire communities effected, there will a number of people where the re-telling of their experience will reinforce that experience, rather than alleviate it. That's why accessing early and consistent support is so important.
It is quite likely that many of you are doing your best to shut off your emotions in these initial few weeks following the fires. Some of you may be thinking now is not the time to "fall apart", or "feel" as there are so many things to organise – places to live, cleaning up the mess, being strong for your family, caring for injured animals. These things do indeed need to be done, however you also need to care for yourself too.  You may be worried if you start looking and touching into your inner world, that it will overwhelm you. While these are real concerns, so is the building up of emotions like fear, guilt, sadness at loss, grief and potentially anger. You may actually be disassociated from your inner world and think that you are coping just fine.
In conjunction with horses and a trained equine assisted psychotherapy mental health professional, you can be supported in a safe therapeutic space to focus on regulating your emotions, touch into and potentially explore your inner world and experiences. Horses are masters of awareness and emotional regulation. Feedback from the horse can give us clues that we may not be coping as well as we think are, especially if we are doing a fantastic job in shutting off our emotions.
"Horses can enable you to develop a trust, where it is ok to start sharing and exploring what your inner world is like". – Bianca Stawiarski
Continued in Part 2 ……